PRODUCTS:
Have a question? Want to order by phone?
Call 1 800 533-1654
A customer writes...
I just want to tell you that you have the best products.

I have a blanket and jacket that I purchased in your store a couple of years ago that still look brand new after years of use and abuse.

Also my daughter has a winter jacket that was handed down from her cousin in Maine that we hate to give up but she has grown out of it. I will look at your products on line to see if I can purchase another jacket.

Thank-you for making quality products that are reasonably priced.

Jae-p
Chuck Roast Products are Made in the USA
---
Chuck Roast is now using Polartec® Fleece made from Recycled Fibers. Our 200 wt. Polartec garments in Black, Navy, and Ivy are now made from post-industrial recycled content.
This process saves the equivalent of 61,000 btu's per vest!
---


Polartec® Buntings as featured in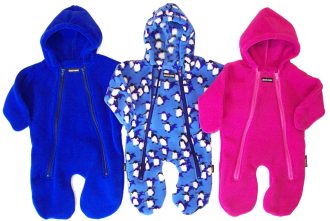 Soft, warm, and machine-washable. Our design features two long zippers, for easy access and quick diaper changing.
More information.
Dear Chuck,

I've been given Chuck Roast beanies, blankets, and buntings for my three kids and we're in love with it.

We know that hiking and playing outdoors is healthy for young kids and Chuck Roast keeps the whole family snug and cozy from babies on up.

Your bunting is so easy to get on and off and the Polartec fabric looks great after dozens of washings.

Now I've come around to giving Chuck Roast to friends having babies because I know how practical and cute they are.

L.L., Greenland, N.H.

---



Business and Non-Profits

Your Logo

can be embroidered on our products for appreciated holiday gifts.